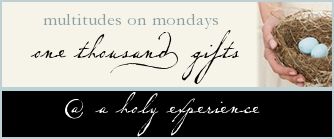 256. Mornings off - if even for a Dr. appointment.
257. Three days on a boat.
258. No sunburn after those three days. Especially when you randomly run in to your Dermatologist at dinner one evening.
259. Salty sea air.
260. A sea turtle swimming by.
261. Scallops found.
262. Time with my dad.
263. Time with my Father.
264. The wooing of the Holy Spirit.
265. Tears that fall freely - signs of brokenness.
266. Trials & Storms. My life. The lives of others. Use me as encouragement Father.
267. These sentences and phrases from Ann's own blog today: "It is only the present moment alone that holds the possibility of coming into the presence of God. Look around, breathe deep, enter into this one moment — Now could be an altar. This time could be a tabernacle."
268. A 6 letter word that starts with C and ends with R. I pray that God uses it to draw a wondering heart back to Him.
269. Visiting with old friends. Laughter fills the air.
270. A young one who says in Sunday School "I heard it first from you!" referring to message of Christ, the message of grace and hope, the message of Salvation!
In all honesty, I started todays list thinking it would be nearly impossible to come up with this list today. But it wasn't. Even in the hard things, in the difficult times, there is much to be thankful for. To pray for.