So I know this mornings post may have been a bit heavy, but it's how I woke up, often times thoughout the night/morning, feeling.
So to make it better, I give to you my list of thanks!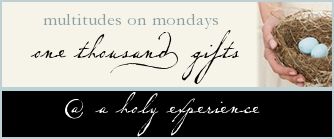 216. Mercy & Forgiveness to this sin sick soul.
217. Sleeping babies in my arms.
218. Expectant mothers/Baby Showers
219. Less than two months until

Worship Expo!

Oh this heart is ready! (I think.)
220. Never forsaken.
221. Never forgotten.
222. Shopping and finding good deals.
223. The smell of the bay.
224. My new found grilling skills.
225. Black olives - straight from the can.
226. Fresh linens.
227. The jealous love of God.
228. A good cry (all the guys just groaned).
229. Movie night with random paper fights after.
230. First day back to school - for them.
231. God hears our cries.
232. He answers our prayers.
233. He knows what He's doing.
234. Scriptures correction of my own sinful attitude.
235. Confidence taht He who began this work in me will complete it.